NASA Leadership DownUnder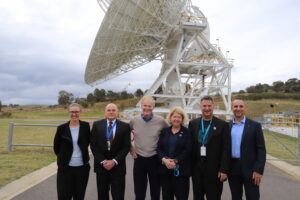 Even though they had both orbited around the planet many times as astronauts, it was a long journey from Washington DC to Canberra for NASA's leadership team.
NASA Administrator (senator and one-time astronaut), Bill Nelson and NASA Deputy Administrator (and career astronaut), Col. Pamela Melroy were on a two-week journey to the other side of the planet to interface with the space agencies of Australia and New Zealand.
The Australian leg of the tour started at the Australian Space Agency's headquarters in Adelaide, where, among a string of meetings and briefings, they launched the National Indigenous Space Academy, providing internships for indigenous students at NASA's Jet Propulsion Laboratory in California.
The pair then jetted over to Canberra for meetings with the US Embassy and then the trip out to the deep space communication complex at Tidbinbilla. Senator Nelson and Col. Melroy were joined by CSIRO Chief Executive, Dr Larry Marshall, DNFC Director, Professor Elanor Huntington, and Space & Astronomy's Dr Kimberley Clayfield in a bilateral discussion of CSIRO's capabilities and projects in the space sector.
This was the NASA Administrator's first visit to a Deep Space Network station, having flown over it many times on his 1986 space shuttle mission.
Hosted by station Director, Kevin Ferguson, the group engaged with staff and enjoyed time in the Operations Control Centre learning about the nearly 50 deep space missions supported by the station.
The tour included visits to all of the tracking stations antennas, and an overview of the history making moments it has been involved in, from the first mission to Mars in 1965, to the amazing cosmic views coming from the James Webb Space Telescope.
Foremost, the NASA leadership highlighted the importance of the NASA-CSIRO partnership and Canberra's role in the Artemis program, to return humans to the Moon in 2025.