CSIRO in Space
CSIRO: Australia's National Science Agency – Your Partner in Space
Solving the greatest challenges through innovative science and technology. Unlocking a better future for everyone.
World-class space research and innovation
We are a key technology partner to the new Australian Space Agency, supporting the goal of tripling the size of the Australian space industry by 2030.
Australia's geographical location and natural advantages are complemented by our world-class science, technical solutions and scientific computing expertise.
Our scientific, technical and industrial heritage provides a firm foundation from which to propel future engagement and growth for the space industry, opening up markets, improving productivity, creating new jobs and inspiring a STEM talent pipeline into the future.
We work with leading global companies, international space agencies and small-to-medium businesses on a variety of space-related activities.
We also use space science and space technology to support innovation and development for Earth-based services in healthcare, and food technology systems, while analytics and downstream applications from satellite data inform both weather and environmental monitoring, as well as telecommunications and agriculture.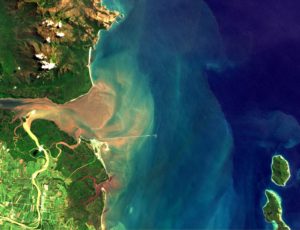 Leaders in Earth observation
We understand the power of Earth observation data to inform policy, manage natural environments and generate agricultural and industrial development opportunities.
Australia is one of the world's largest users of satellite-derived Earth observation data.
Through our CSIRO Centre for Earth Observation, we're making available our share of the NovaSAR-1 satellite to provide Australian researchers with direct tasking and access to observation data about our world.
We work on a wide range of projects, including the development of new sensing and imaging technologies, robust data processing methods, and integrated resource and environmental applications and services.
Our strengths in satellite calibration and validation are widely recognized as some of the best in the world.
We developed the Open Data Cube platform, in collaboration with Geoscience Australia, CEOS partners and NCI Australia, to house and process petabytes of satellite Earth observation data from multiple sensors. Used as the base technology for Digital Earth Australia, the platform assists researchers and the Earth analytics industry to access and engage with Earth observation data and analytics services. Our expertise in establishing and supporting data cubes continues across a range of projects with Australian and international partners.
We are world leaders in the development of Earth observation analytics, tools and applications to inform and manage environmental challenges.
Communications technologies and services
Our international partners recognise that Australia's southern hemisphere location is a great natural asset that is complemented by our proven ability to manage large, complex facilities.
We've worked with NASA since 1962, when our Parkes radio telescope supported the Mariner 2
mission to Venus, and our radio telescopes are regularly called on to support NASA's space missions.
Today, we manage and operate the Canberra Deep Space Communication Complex, one of NASA's three deep space tracking stations around the world, and NASA's Alice Springs Balloon Launch Facility in the heart of Australia's red centre.
We also manage the European Space Agency's New Norcia deep space ground station operations in Western Australia.
Our leading observatories in regional New South Wales – near Parkes and Narrabri – are used by researchers from around the world to look into the centre of our own Milky Way galaxy and beyond to reveal the secrets of the Universe. And they play a dual role, providing ground station services for current and future space missions.
Our heritage in successfully managing ground stations and deep space communications is matched by our excellence in instrumentation and signal processing technology R&D.

Robotics and automation on Earth and in space
We're global leaders in the field of robotics and autonomous systems technologies, with deep expertise in highly autonomous legged robots, autonomous ground and aerial vehicles, and 3D mapping.
We have decades of experience developing breakthrough innovation for the mineral resources sector. This is complemented by our work in robotics and automation for advanced manufacturing, mining and remote asset management applications – capabilities that are critical for in-situ resource utilisation.
Our LiDAR-based simultaneous localisation and mapping (SLAM) technology allows a user to generate and navigate a map of an unknown environment using a small handheld or vehicle-mounted device without the need to use GPS. It can accurately map hard to reach indoor spaces as well as outdoor environments and could be used to map space-based infrastructure such as the International Space Station as well as inspect ground-based industrial assets and parts in the manufacturing process.
Paired with our highly versatile six-legged robots, SLAM can map confined spaces that are too difficult or dangerous for humans to access and it can assist navigation over uneven and unstable terrain by constructing maps in real-time, making it an ideal tool for future space exploration missions.
Our SLAM technology has been commercialized through our joint venture company GeoSLAM, in partnership with global mobile mapping company 3D Laser Mapping.
Challenging exploration missions can rely on our autonomous systems technologies and robots to take that first step into unknown environments.
Leapfrog R&D
Our aim is to build world-leading capability to help reinvent existing industries, create new ones and enable infrastructure to develop job opportunities and deliver public good.
We're achieving transformative science and cutting-edge technologies through our Space Technology Future Science Platform. Current projects include development of:
technologies to enhance small satellite subsystems including power, imaging, onboard data processing and structural components
materials and manufacturing processes for space applications including radiation shielding, dust mitigating surfaces and CO2 recycling, and
enhanced analytic tools and applications for remote sensing and Earth observation.
We are also undertaking cutting-edge research on:
enabling and unlocking space technology for in-situ resource utilisation
terahertz and optical communications and signal processing technologies, and the application of phased array technologies to enhance the capabilities of satellite ground stations, and
exploring human factors / space life sciences and biomedicine.
Our global industry connections and long-standing partnerships with industry leaders such as Boeing are delivering breakthrough innovations that support supply chains.
Our high-performance computing and data infrastructure, and our partnerships in the Pawsey Supercomputing Centre and NCI Australia, enable world-class innovation across scientific disciplines.
We help bring Australia and the world together in the international space ecosystem.
Contact: Megan Crocker @ megan.crocker@csiro.au or Margaret Donoghue @ margaret.donoghue@csiro.au
What's for dinner on Mars? The science behind space food